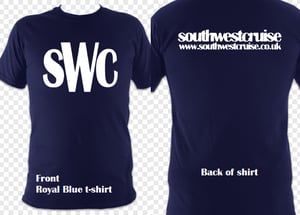 £

12.99 - On Sale
Please read listing carefully to ensure you buy the correct item!
Here is the official South West Cruise T-shirt, available in 10 different fabric colours!
Need some new tops to take on holiday? Sick of paying through the teeth for designer clothes? Or do you simply like the design and the club? These tops are suitable for all casual situations, and damn do they look good! Order yours today!
The image shown is the purely an example, and the actual product will differ slightly.
Please note that all measurements are around the chest in inches.
Sizes:
S (34"-36")
M (38"-40")
L (42"-44")
XL (46"-48")
XXL (50"-52")
3XL (54"-56")
Colours (Please state choice in 'Message to Seller' box):
White/Black Print
Black/White Print
Royal Blue/White Print
Navy Blue/White Print
Red/White Print
Purple/White Print
Maroon/White Print
Heliconia (Hot Pink)/White Print
Metro Blue/White Print
Irish Green/White Print
All products may differ slightly from the image shown, and all proceeds from products go towards purchasing the products themselves and supporting South West Cruise.