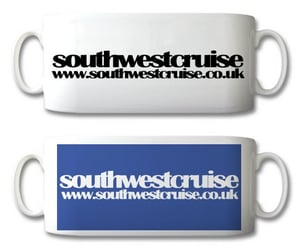 £

9.99 - On Sale
Are you like us here at South West Cruise, and enjoy a morning cuppa? Or do you just need a new mug for work? Then there is no need to look any further - pick up an official South West Cruise mug today!
The mug comes in two designs, white background with black South West Cruise logo, or white mug with 'Facebook Blue' background and white lettering.
All products may differ slightly from the image shown, and that all proceeds from products go towards purchasing the products themselves and supporting South West Cruise.