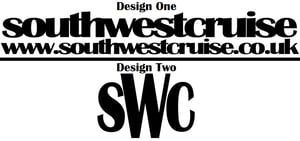 £

3.50 - On Sale
Design One - 'Text & URL':
South West Cruise text & URL die-cut vinyl window sticker.
Approx size 190mm x 35mm.
Design Two - 'Abbreviation':
South West Cruise 'Initials' Logo die-cut vinyl window sticker.
Approx size 150mm x 90mm.
Each purchase will include one sticker.
Exterior application only.
All designs in various colours, see below for details.
Please state which colour you would like from either the 'Standard' or 'Premium' colour lists in the 'message to seller' box on Paypal, and select the relevant design & what type of vinyl (standard or premium) from the drop down box. If no colour is stated, white will be sent out as standard. If you pay for 'standard vinyl' and ask for a premium vinyl sticker, no order will be placed with the supplier until the remaining balance has been rectified.
Standard Colours (£3.50 each):
Black Gloss
White Gloss
Black Matte
Red
Pink
Orange
Blue Gloss
Blue Matte
Dark Blue Gloss
Silver Gloss
Metallic Gold
Purple
Dark Purple
Anthracite
Primrose Yellow
Golden Yellow
Kawasaki Green Gloss
Kawasaki Green Matte
British Racing Green
Grey Gloss
Cream
Premium Colours (£6.00 each):
Fluorescent Green
Carbon Fibre
Glow in the Dark
Chrome
Blue Glitter
Red Glitter
Silver Glitter
Fluorescent Pink
Fluorescent Yellow
Reflective Yellow
Silver Holographic
All products may differ slightly from the image shown, and that all proceeds from products go towards purchasing the products themselves and supporting South West Cruise.